DHOAS Construction Loan

Building your dream home? The DHOAS Construction Loan lets you pay for the construction of your home at various stages of the building process.
Borrow
up to 95%
Additional
repayments
Available from
$50,000
Overview
The DHOAS Construction Loan features:
Borrow up to 95% of the property value (inclusive of LMI)4
Minimum loan amount of just $50,000
No monthly or annual fees
Loan term of up to 2 years
The option to make extra repayments
Interest only repayments during the construction phase to help you save
Split Option (with other DHOAS loans)
Applications for the
DHOAS Construction Loan
can be made
online
, over the phone on 
1300 13 23 28
or by visiting your nearest
branch
.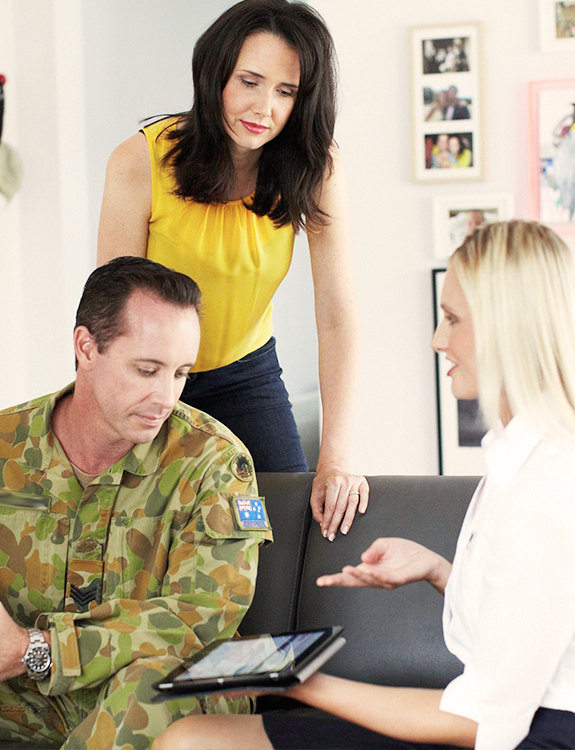 Rates & Fees
Here's everything you need to know about the rates and fees for the DHOAS Construction Loan:
 
Interest rate: 3.38% p.a.2
Comparison rate: 3.42% p.a.​3
Comparison rate based on a loan of $150,000 repaid over 25 years. WARNING: The comparison rate is applicable only for the example given and may not include all fees and charges. Different terms, fees or other loan amounts might result in a different comparison rate.
Establishment fee: $450
Monthly fee: $0
Annual fee: $0
Draw-down fee: $65
Lenders Mortgage Insurance (LMI)4: Payable for loans with a deposit of less than 20%
3rd party charges: Stamp duty, legal fees and valuation fees apply
Additional fees may be payable. For more information please see our Schedule of Fees and Charges.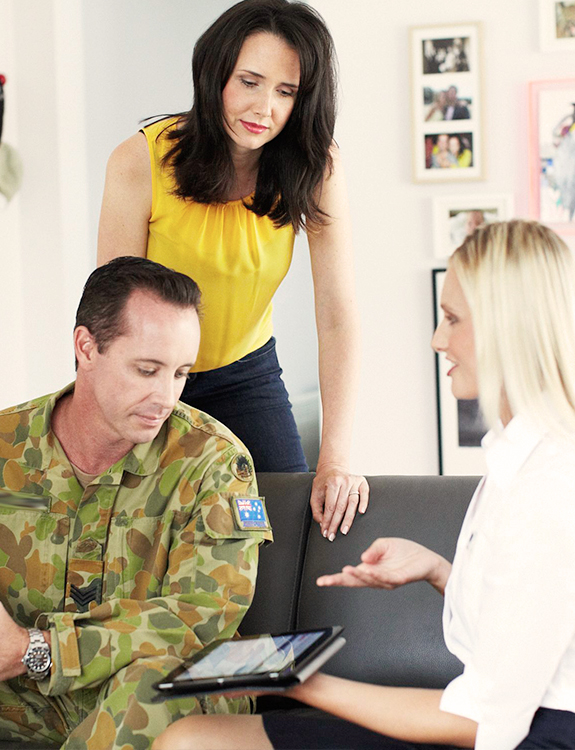 Questions
We're often asked similar questions about our DHOAS Construction Loan so here are our top five – can't see your question? Call 1300 13 23 28.
I don't need to borrow much money. What is the minimum amount?
With the DHOAS Construction Loan you can borrow as little as $50,000.
Can I choose my repayment frequency?
No, during the construction period payments are to be made monthly.
How long do I have to build my home? 
The construction period is up to 2 years from the date of settlement.
What happens after I've built my home?
Once your construction is complete, you'll revert to another of our home loans. Talk to us about the best option to suit your lifestyle.
How do the progressive draw downs work?
Progressive draw down allows you to pay the builder for the construction or renovation in 3 stages as the building work reaches each stage of completion. Australian Military Bank will arrange a valuation to conduct progress inspections prior to payment. Please note these inspections are subject third party valuation fees and charges.
Interest Rate2
Comparison Rate3
Maximum Loan to Value Ratio (LVR)4
First Home Buyers Deposit Scheme6
Split Option (with other DHOAS loans)
Relationship Rewards5
Use the arrows to scroll through the many Australian Military Bank DHOAS Home Loans options RESET
Our simple vanilla loan with a super-low variable rate, unlimited additional repayments as well as the ability to redraw.

Get the flexibility of a variable rate with the benefit of a 100% offset facility

Variable rate home loan with the benefit of 100% offset facility

One year fixed home loan offering the security of knowing what your repayments will be

Two year fixed home loan offering the security of knowing what your repayments will be

Three year fixed home loan offering the security of knowing what your repayments will be

Five year fixed home loan offering the security of knowing what your repayments will be

A variable rate loan helping you to build your dream home, granny flat or renovate your existing home
Note: Important Information please read
The small print
DHOAS Home Loan applications are subject to Australian Military Bank's normal lending criteria. Full terms and conditions will be included with our loan offer. Fees and charges are applicable. Rates are effective from 22 February 2021 and are subject to change.
1 Rates shown apply during the fixed period of your loan. After the fixed period, your rate will switch to the applicable variable rate for a principal and interest loan. Terms and conditions apply.
2 Rates are current at the time of publication and are subject to change. The rates displayed are at 80% LVR (meaning that a minimum 20% deposit is required). The rates displayed are only available for new owner occupier, loan borrowings of $150,000 or more (excluding the DHOAS Value Home Loan & DHOAS Construction Home Loan, the interest rate displayed is applicable for new loan borrowings of $500,000 or more).
3 Comparison rate calculated on a loan amount of $150,000 over a term of 25 years based on monthly repayments. These rates are for secured loans only. The rates displayed are at 80% LVR (meaning that a minimum 20% deposit is required). WARNING: This comparison rate applies only to the example or examples given. Different amounts and terms will result in different comparison rates. Costs such as redraw fees or early repayment fees, and cost savings such as fee waivers, are not included in the comparison rate but may influence the cost of the loan.
4
This amount is inclusive of Lenders Mortgage Insurance (LMI) premium. LMI is required when borrowing in excess of 80% LVR. Further restrictions may apply as required by our Lender's Mortgage Insurance provider.
5
Based on total average monthly balance and applies to ATM, EFTPOS, Direct Debit and BPAY® transactions.
6
The First Home Loan Deposit Scheme is an Australian Government initiative to help first home buyers get into their first home sooner. Australian Military Bank is proud to be supporting the initiative and supporting eligible first home buyers enter the property market. This is available with Australian Military Bank from 1 February 2020. For more information, click here.